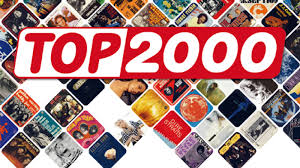 Net als vorig jaar heb ik mijn muziekfavorieten weer een zetje gegeven voor de top 2000, een lijst die overigens met het jaar meer vraagtekens oproept. Hieronder vind je de clips, maar voor de liefhebbers is er ook een Spotify-playlist.
---
Donna Summer – I Feel Love
The Cure – Pictures Of You
Michael Kiwanuka – Cold Little Heart
Eddie Vedder – Society
Eefje de Visser – Ongeveer
Bruce Springsteen – I'm On Fire
New Order – True Faith
Portishead – Glory Box
Band of Horses – The Funeral
Paolo Nutini – Iron Sky
Prince – Sign O'The Times
The National – Pink Rabbits
Massive Attack – Teardrop
Beach Boys – God Only Knows
Housemartins – Caravan Of Love
Aimee Mann – Wise Up
Radiohead – Exit Music (For a Film)
Sam Cooke – A Change Is Gonna Come
Eagles – The Last Resort
Queen – These Are The Days Of Our Lives
Julee Cruise – Falling
Sigur Ros – Untitled #8 (Popplagio)
Lana Del Rey – Video Games
Sufjan Stevens – John Wayne Gacy, Jr.
Zombies – Time Of The Season
Elbow – New York Morning
Nick Drake – Fruit Tree
Mark Kozelek (ft. Jimmy LaValle) – Somehow the Wonder of Life Prevails
Spinvis – Trein Vuur Dageraad
Joy Division – Atmosphere
Archive – Collapse/Collide
Nick Cave (ft. Else Torp) – Distant Sky
Nina Simone – Sinnerman (Live)
Smiths – There Is a Light That Never Goes Out
Nick Cave – Into My Arms
De top 2000 is momenteel te horen op Radio 2.