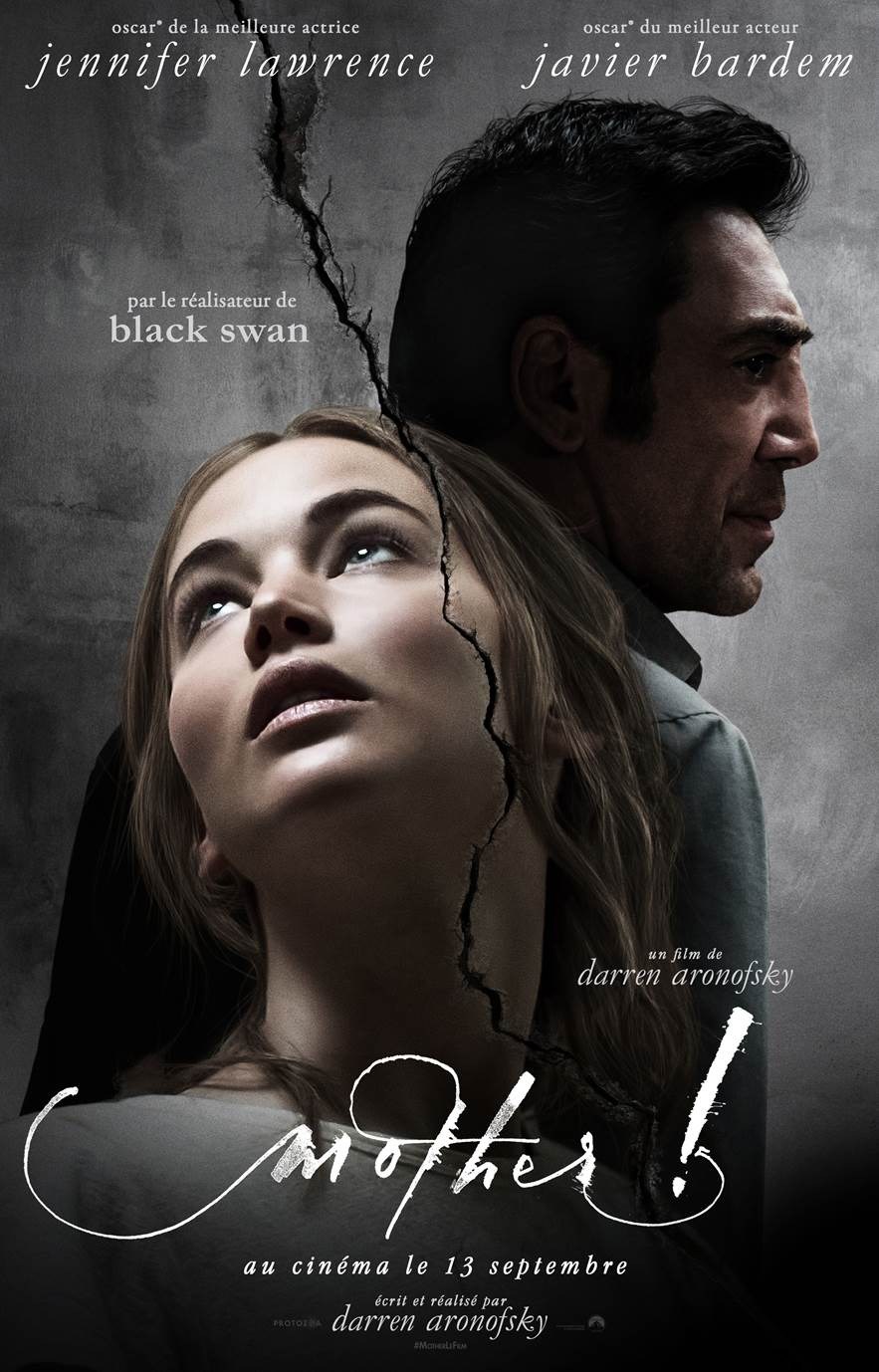 Last tuesday I went to the theater to watch Darren Aronofsky's mother! again. For those who wonder: nobody forced me to do that. I chose to feel uncomfortable for two more hours, to delve myself deeper into a story that got its hold on me all week long. This is a cinematic nightmare that will divide people for the years to come. It already does: mother! received an F-rating from the American cinema public, but there are many voices proclaiming the very same movie is an absolute masterpiece.
In this analytical essay, I will focus on one specific reading of this movie, that could possibly help to appreciate and understand some of the parts that put this psychological mystery together. In order to do that, I will use the proposotion that mother! can be read as an allegory. This means the ideas and the characters of the movie represent something else. They refer to meaningful concepts and stories that exceed the storyworld itself. The possibility of an allegory brings me to the following statement: Darren Aronofsky's mother! Is an intriguing religious allegory, in which specific sequences and characters mainly refer to biblical stories, persons and ideas.
The characters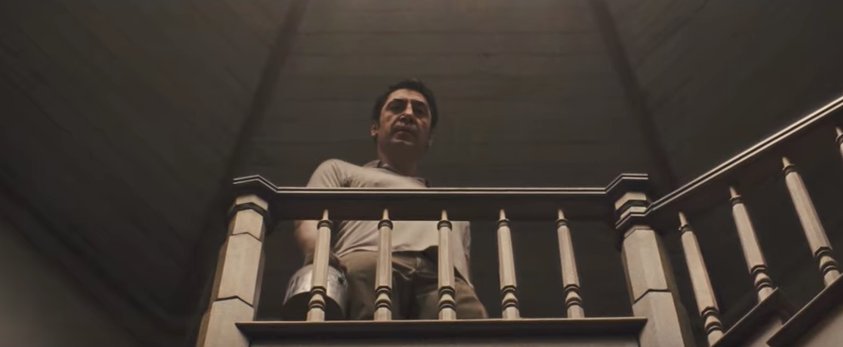 When the movie approached its shocking finale, it became clear to me that the male lead actually represents God. In the very beginning of the film, we see how the concept of creation goes hand in hand with the deeds of Javier Bardems character. After he touches a mysterious glowing stone, the house actually starts to 'live'. Green vegetation replaces the dust, the darkness and the silence. The house thus awakens, and so does the character called mother (Jennifer Lawrence). The temporality here (creation and awakening go together) is the first clue mother is actually mother earth, or mother nature. I will come back to that observation later.
When you read the biblical book of Genesis, you can notice that the beginning of mother! resembles the process of biblical creation. Both stories elaborate on the possibility of making something out of nothing, using the performative power of a mighty entity. One interesting difference is at stake here: in Genesis, the voice of God is enough to start the process of creation (Genesis 1); in mother!, Javier Bardem needs a mystical stone to bring life into the house. This can be seen as a limitation; the God of mother! needs something else to create, he can't do it all by himself. This suggestion becomes more solid if you keep in mind that Bardems character turns out to be a poet with a serious writers block. The principle of first creation is followed by hesitation and doubt. What to do, for example, when the people wandering on earth try to kill eachother?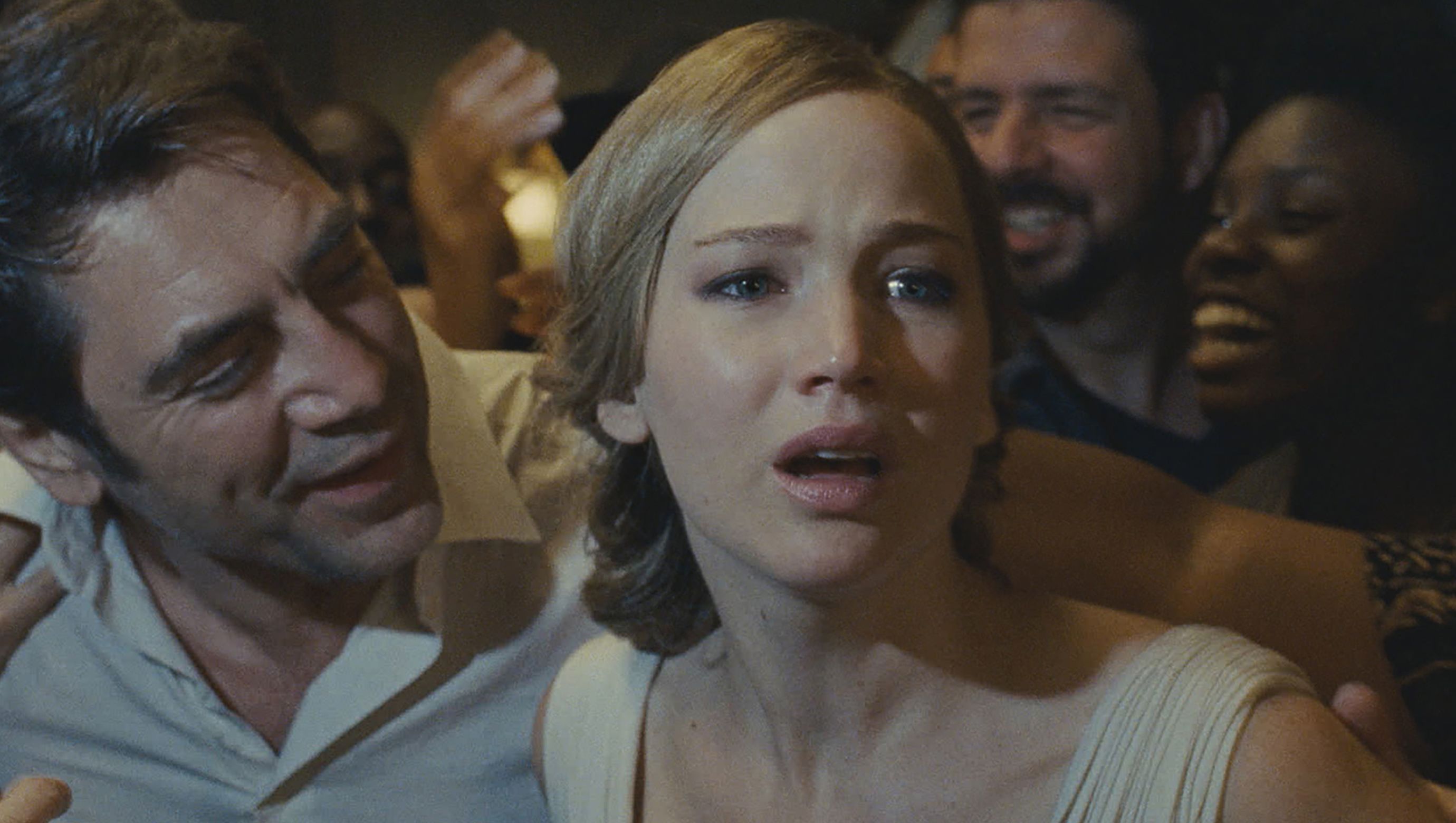 In my opinion, the case for the story of Cain and Abel (Genesis 4) is really strong here. The two sons entering the house are the sons of the first people on earth, Adam and Eve (Ed Harris and Michelle Pfeiffer). We hear a testament prejudiced the younger brother (Brian Gleeson), causing the other son (Domhnal Gleeson) to kill him out of hate and jealousy. It's also possible to see some reflections of the Jacob & Esau-story (>Genesis 25) here, as that story contains the specific element of heritage and prejudice, granted by the father (Isaak in Genesis, Adam in this story). My interpretation is that Darren Aronofsky is combining the stories of Cain & Abel and Jacob & Ezau. The narrative purpose of these references is purely suggestive: in mother!, conflicts are not caused by an evil entity (there is no snake, no devil), but by the very people God created. Evil resides in their nature, in their urge to revolt when (subjective forms of) injustice occur.
There is one character that represents real justice in this movie. The paradox of mother! is that this character isn't God. It's mother. When the movie is about halfway and all people (all but 'God' and mother) have left the house, mother confronts God with the fact that he doesn't want to make love to her. There is much more ambiguity in this question than what meets the eye; if Bardems character actually IS God, it would make sense he isn't interested in love-making.  We have to take into account though that God 'became' a man of flesh and blood too; at least, if we continue thinking in christian characters, ideas and metaphors. In that case, a 'higher', metaphysical entity can actually have sexual desires. Another uncomfortable paradox… and you can definetely feel that discomfort in the painful scenes Bardem and Lawrence share.
God and mother do make love together, and this deed is followed by the strangest cinematic pregnancy I have witnessed in years. When mother wakes up the next morning, she just 'knows' she is pregnant. Her belly starts to grow, and everyone who watches this movie will confirm it doesn't take nine months to give birth this time…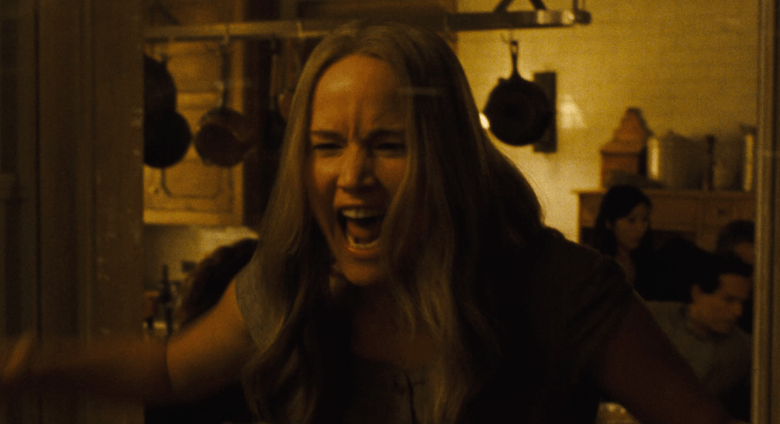 The only explanation for this strange kind of affair is a religious reference once again. If mother symbolizes Maria in this sequence, the narrative contains the new-testamentical birth of baby Jesus (Matthew 1). Written and visual proof for this hypothesis follow, as there are people bringing gifts (referring to Matthew 2:11) and Bardems character starts mumbling about the 'beginning of something very special'. The climax is as intense as it should be: after a magnificent competition in staring and awkward eye-contact, Bardem takes away his son and give him to the people who are destined to do the most horrible thing. This is Gods offer to humanity, followed by Bardems completely inhuman urge to 'forgive' the people who just… well… if you saw mother!, and I hope you did at this point, you know what happened.
I will close this part of the discussion with one specific remark on the end credits. My statement is that Darren Aronofsky knew exactly what he was doing when he wrote his allegorical characters. Javier Bardems character doesn't have an actual name until the end credits state he's called 'Him' (note the capital H). About ten minutes earlier, the very same character proclaims the following line of dialogue: 'I am who/that I am'. This line of dialogue corresponds with a biblical phrase in Exodus 3:14. When Mozes asks God on Mt. Sinaï what his name is, Gods answer equals the only direct clue Javier Bardem gives concerning his true identity. Furthermore, Brian Gleeson and Domhnal Gleeson (they are brothers in real life too) are listed as 'the younger brother' and the 'Oldest Son' (imdb). All the guests visiting the house get characterizing titles to; there's a Zealot (!), a cupbearer, a fool, a wanderer, even a Good Samaritan (Luke 10)… none of these characters has an actual name, but all the characters have a methaphorical one.
The house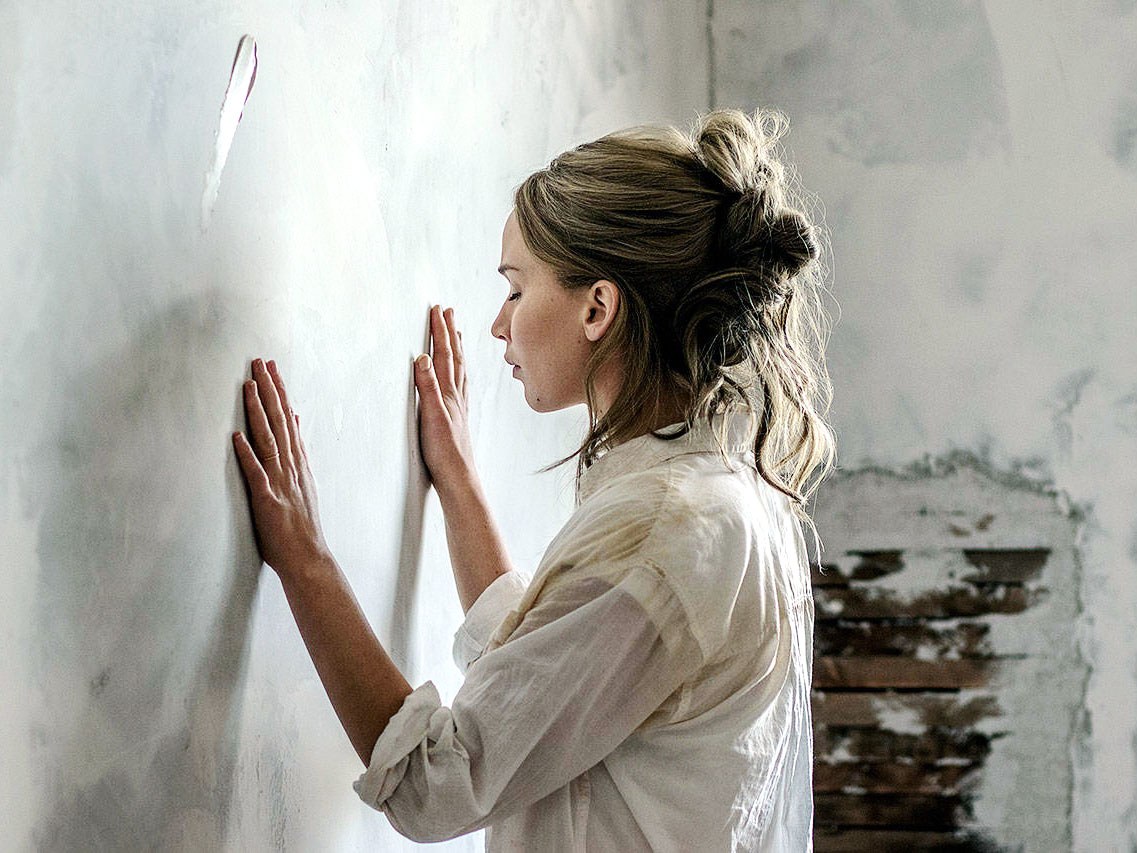 As you can see in soome of the more surrealistic shots of this movie, the house seems to have a heart. In my opinion, the house represents planet earth. God is the owner of the house, while mother! (Lawrence) is the protector of the house, the protector of life. Note how mother tries to restore everything in the house that's broken or destroyed.
We ourselves are the unwanted guests that populate planet earth. We think we can afford to do anything, because the owner of the planet told us we could(ór we decide by ourselves we can). When Lawrences character asks the people in the house why they destroy everything and why they act as if the house is theirs, the guests all give the same answer: because the owner lets them, because he wants them to share everything. You can detect some serious criticism of religion here: I read these dialogues as a protest to the claim (of many believers) that anything is possible, just because God's on their side.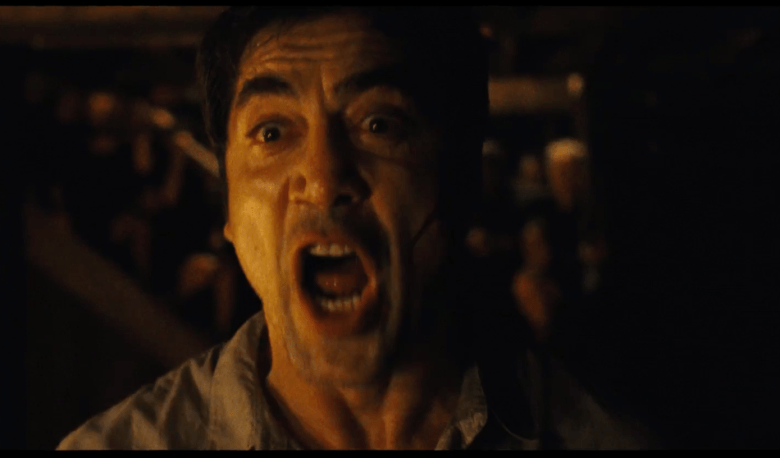 This is not a movie about truth or falsehood. It's not about the question of Gods existence. Maybe it's about the Death of God (yes, Bardem dies), but only on short notice; when the house is destroyed, the process of creation can begin again.
The ending of mother! thus brings Aronofsky's last movie Noah back in the picture. After the flood (the end of the house/world an all the people on it), God has the surreal possibility to start all over again.
Conclusion
It's important to emphasize that mother! Is open to many readings. My interpretation isn't final at all, but I sincerely hope I have convinced you it is possible to interpret mother! The way I did. For me, the possibility of a (nearly perfect) religious allegory absolutely enriched this movie. It made me think about the screenplay in a completely different manner, and it enabled me to make sense of sequences that I probably wouldn't understand if I hadn't seen the clues I described in this essay.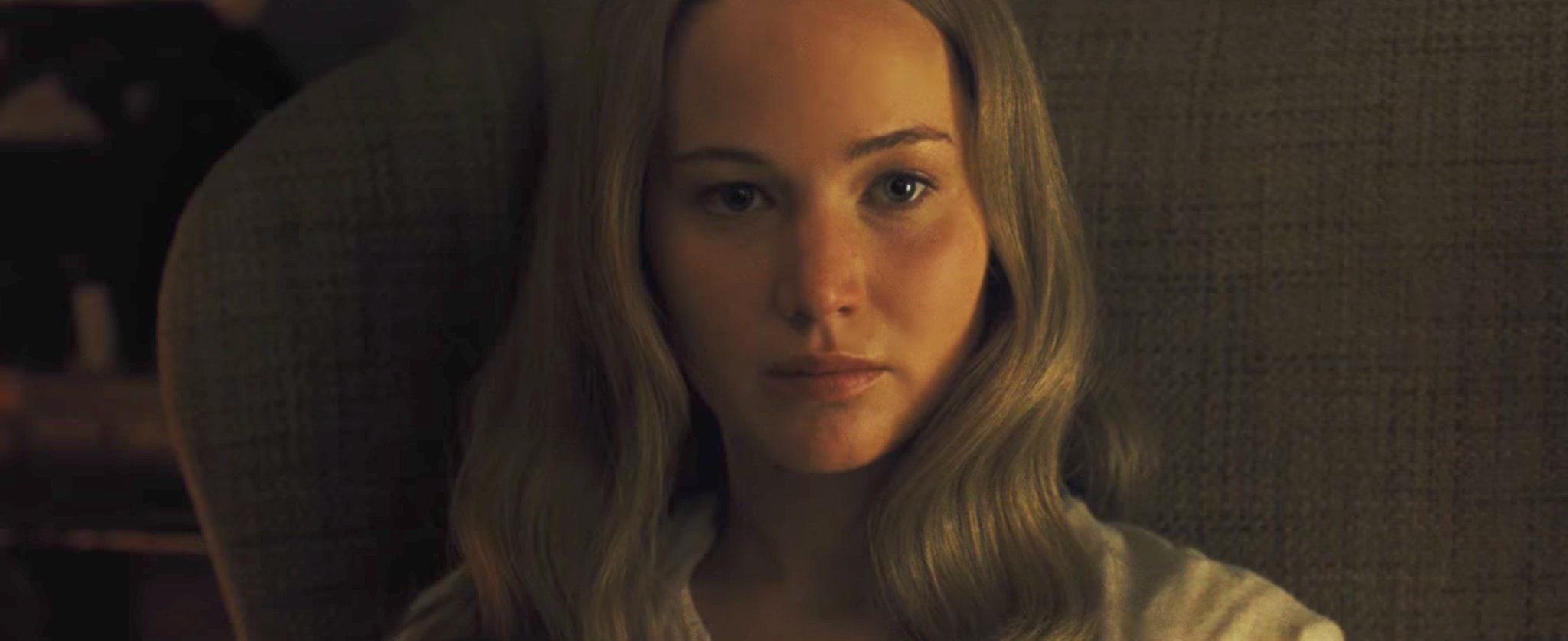 mother! is out in cinemas worldwide

Info: mother! (2017)/121 minutes/Genre: horror, drama, thriller, mystery/Director: Darren Aronofsky/Cast: Jennifer Lawrence, Javier Bardem, Ed Harris among others

(5 / 5)
Summary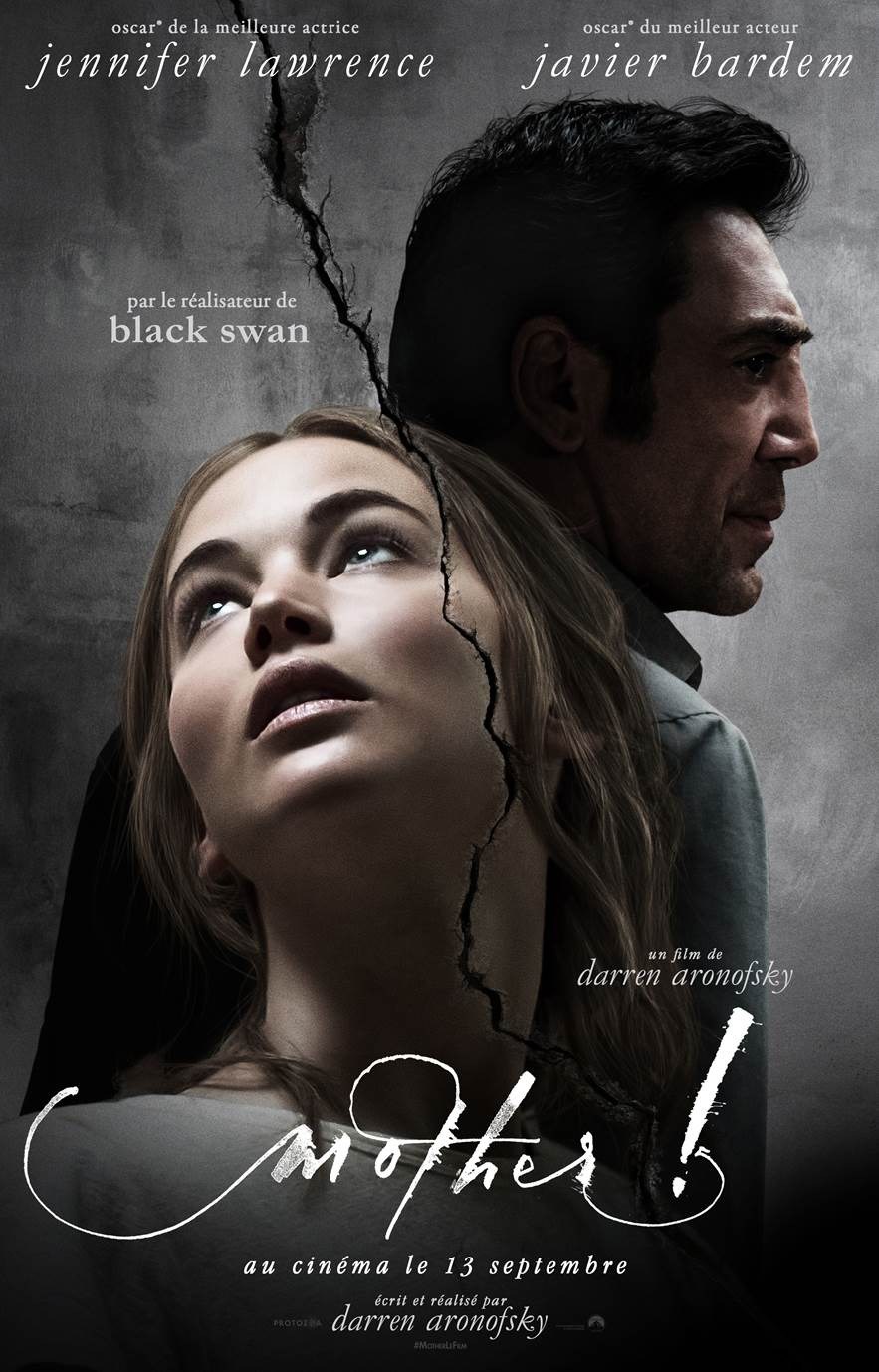 Article Name
The house is bleeding: an allegorical interpretation of mother!
Description
In this essay, I read Darren Aronofsky's mother! as a religious allegory. I explain the characters and narrative acts by referring to biblical names, stories and ideas.
Author